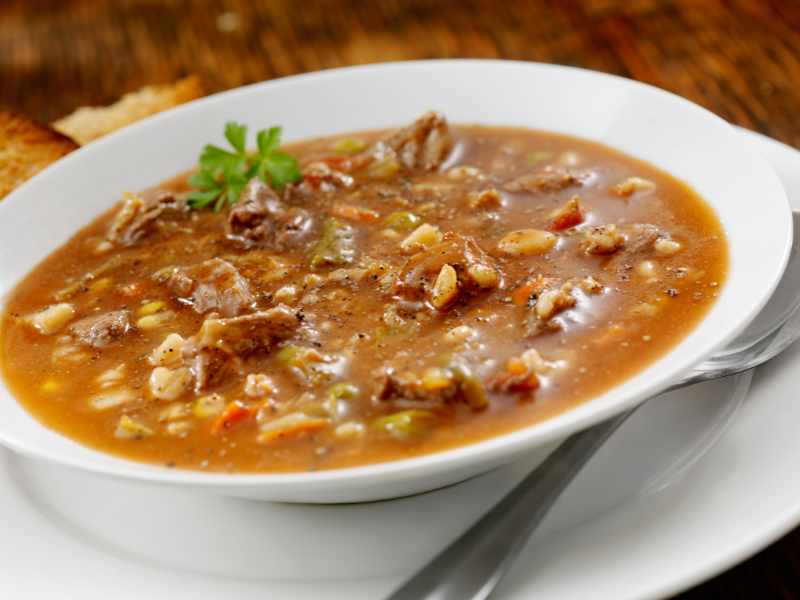 My children think of this EASY soup as comfort food, because the recipe has been passed down from great-grandmothers and grandmothers to them. I enjoy serving it in the spring, to remind us of the barley harvest in Israel.
Most people probably make this with beef stew meat or leftover roast. My grandmother didn't always have the money for roast, so ground beef (or "hamburg," as she called it) was used instead. To me, it just takes like home!
You can throw in a multitude of other vegetables as well. My daughter recently added mixed vegetables like corn and peas. I sometimes like to add a few cut potatoes. The recipe below, however, is exactly like my grandmother would have made it–except her handwritten recipe card says to use 12 beef bouillon cubes and 3 quarts of hot water instead of beef broth.
This soup can also be made in a crockpot and cooked on low all day, so that it's ready for an easy supper.
My grandmother would have served this with slices of buttered white bread on which she had sprinkled Parmesan cheese from the green can. Really! I have to admit I prefer a crusty sourdough bread on the side.
Ingredients:
2 pounds ground beef
2 large onions, chopped
3 quarts beef broth
2-3 cups carrots, peeled and diced
1 quart diced tomatoes
1 cup quick pearled barley
2 tablespoons sugar
Procedure:
In a dutch oven or large soup pot, brown ground beef and onions until beef is cooked and onions are soft. Drain if necessary.
Add all the other ingredients and simmer at least 2 hours.