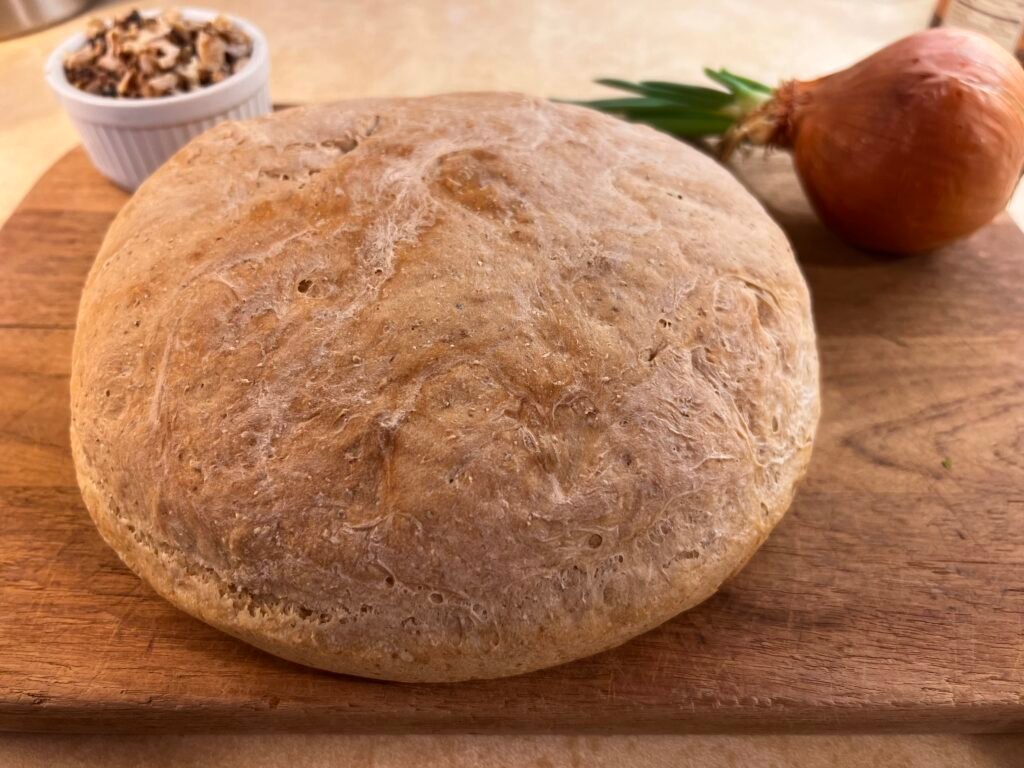 PREP TIME:
Prep: 5 min. Rise: 1½ hrs. Second Rise: 30 min. | Bake: 30 min. | makes 1 large artisan loaf
This bread is sooooo easy and so quick to make. Anyone can make it and have fresh, hot, homemade bread in barely any time. Try it and let us know in the comments how yours turned out!
Artisan "No Knead" Expedition Bread
13 oz warm water
1½ tsp yeast
1½ teaspoons salt
3½ cup unbleached/bread flour
(optional) 4 Tbs sourdough starter
Instructions
Take a glass bowl and warm it for 1 minute in the microwave.Place warm water, yeast, and salt into bowl and stir a few times to dissolve.
Add flour and stir to combine. The dough should have a somewhat shaggy texture.

Lift out dough and drip some olive oil into the bowl. Place the dough back into the bowl and spin it in the bowl to coat it with oil. Cover the bowl with plastic wrap or a tea towel and set in a warm place to rise. (Note: In the winter, I put the oven on 350 degrees and set the dough on the stove top to rise.)

Let the dough rise for 1½ hours or until it at least doubles in size.
Spray a cast iron skillet with spray or olive oil to coat.
Punch down the dough and form into a ball. Place the ball in the cast iron skillet. (Note: You can add sesame seeds, oats, parmesan cheese, or any other fun topping while dough is still n the bowl. Place those in and roll the dough in the topping. With cheese flatten the top and place a mound of your favorite cheese on top.)
Place the plastic wrap or towel back over the dough ball in the cast iron skillet and let proof/rise a second time for 30 minutes. If you haven't already, preheat the oven to 400 degrees. Make sure the oven rack is in the center position so that the heat evenly hits the bread while baking.
Place the skillet in the oven and cook for 40 minutes or until golden brown. Take out and place on a cutting board or cooling rack to cool.